Just Launched: NEW Green Coco Hair Mask
Turn that lifeless hair into luscious locks that will leave everyone green with envy! Introducing our new Green Coco Hair Mask, your new go-to hair care essential.
Benefits
So what are the benefits? This bi-weekly treatment is clinically proven to boost shine, manageability and improve long-term hair health. It is designed to work on all hair types, and is safe for color treated, keratin treated, chemically-treated, AND relaxed hair… It's just that good!
How Does It Work?
After shampooing, apply a generous amount and massage into damp hair. You want your hair to still be wet, but not too wet where you're leaving a puddle on your bathroom floor. Focus on the midsection of your hair to your ends, and leave it in for 5-10 minutes, depending on your hair type.
Designed to be used once a week to help improve your hair's manageability, the antioxidant-rich formula restores essential moisture and hydration to dry, brittle, colored, or over-processed hair. Not only that, but the treatment also reduces frizz, strengthens hair and adds shine… wow, we really went above and beyond with this one!
What's in it?
Made with only the best super greens, and 100% Vegan, the Green Coco Hair Mask is made from Avocado, Coconut Oil, Green Tea Extract and Hydrolyzed Vegetable Protein. Now, you're probably wondering, "What will these super greens do for my hair?". Well, here's the 411:
Avocado & Coconut Oil: Repairs Nourishes and repairs the hair, Avocado and Coconut Oil will leave your hair looking and feeling restored and rejuvenated.
Green Tea Extract: Soothes Not just a healthy beverage! Green tea extract has been shown to promote healthy hair growth, soothe inflammation and leave your hair smooth and shiny.
Hydrolyzed Vegetable Protein: Hydrates Hydrolyzed Vegetable Protein mimics the composition of hydrolyzed keratin to provide a sustainable, effective solution to hydrate and soften hair.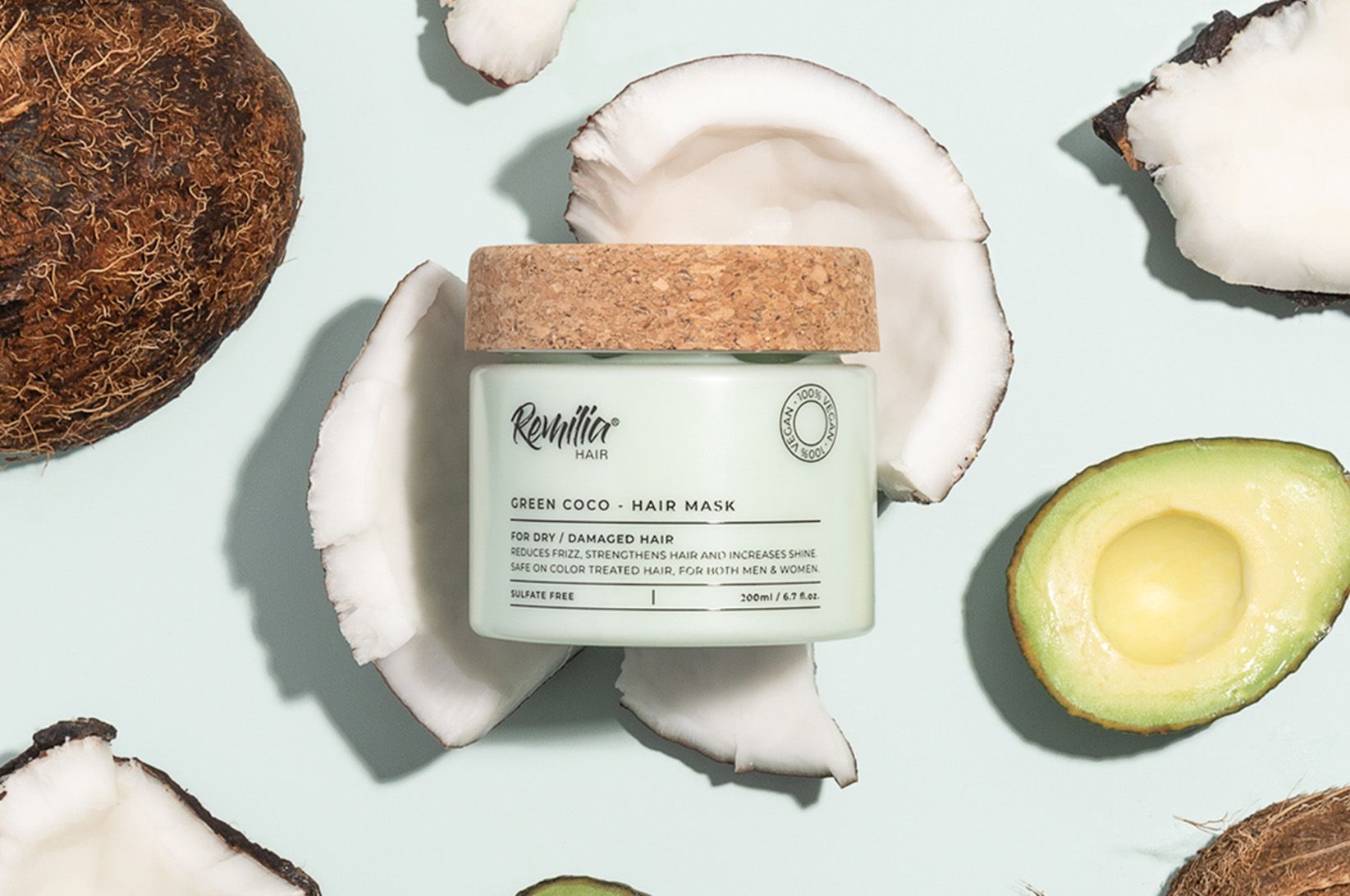 Questions we know you'll want to ask
Not only do we make killer hair care, we're also secretly mind readers (shh, don't tell anyone!). So, here are 3 questions we're sure you're dying to ask, and 3 answers that we think will do the trick!
Does it work on all hair types? Yes! The Green Coco Hair Mask is designed to work on all hair types… Straight, wavy, curly and coily!
Is the packaging eco-friendly? Yes! The packaging is 100% Recyclable and made from a combination of PCR (post consumer resin) and recycled plastic.
Are you sure it's safe for my hair? Yes! The Green Coco Mask is designed to work on all hair types, and is safe for Color treated, keratin treated, chemically-treated, and relaxed hair.
If you have any more questions that our physic powers seem to have missed, you can chat to us anytime on our Instagram, Facebook, or contact us through our Contact Page on Remiliahair.com. Happy Hair Masking!
Keratin 101
One of the most powerful and efficient ways to strengthen over-styled, frizzy locks, professional keratin treatments.